Background image: Panoramic view of London with Tower Bridge in center
You will spend the fall semester in London, the capital of the United Kingdom and one of the major financial, media, and cultural centers of the world.
Home to incredible history, diversity, theater and art, London is a dynamic, global city. You will be surrounded by museums, green parks, universities, and cultural attractions. And its central location allows you to easily explore the rest of the UK and Europe.
In London, you will study at the UC London Center, the nexus of the University of California activities in the United Kingdom.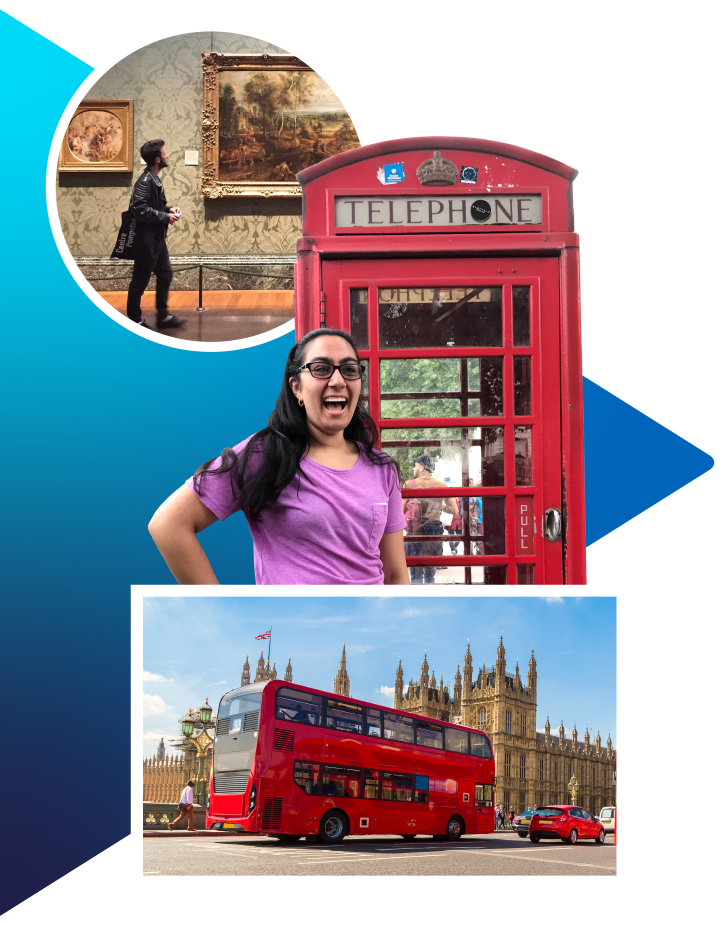 Where You Will Study
UC London Study Center
The UC London Center is based near the British Museum and the University of London in the heart of London's Bloomsbury district, a vibrant, historic area of central London well known for its formal garden squares. With the UC London Study Center as your base, you will have the opportunity to explore the city and experience British culture before returning to Berkeley.
Read more about the UC London Study Center
Where You Will Live
London Student Housing
Student Apartment Complex in Central London: Participants will live in shared multiple-bedroom apartments in a student apartment complex located within the central Zones 1 or 2 in London.
Apartment layouts may vary, but are typically double and triple occupancy rooms, furnished with a bed, closet, chest of drawers, and linen kit including bedding and towels for each student. All occupants in the apartment will have access to a shared living room or common area, a shared bathroom, and fully equipped kitchen. Kitchens will include a refrigerator, microwave, stove, oven, pots, pans, dishes and cutlery. Laundry facilities are generally located in each apartment. You can expect your apartment complex to include a short commute to the UC London Study Center, which may take roughly 30–35 minutes on public transportation.
Housing details will remain similar, but exact housing location details and apartment and building amenities will be shared with you at your Pre-Departure Orientation during the summer.
Meals
The program does not provide meals, but you will have the option of preparing your meals in your apartment kitchen or purchasing your own meals from local establishments.
Orientation
During the summer in Berkeley, you will participate in workshops covering academic preparation, intercultural learning, health and safety abroad, and tips for first-time travelers. Upon arrival in London, you will participate in a weeklong orientation that includes an introduction to UC London Center facilities, a city tour, how to use local transportation, academic and cultural preparation, health and safety in London, cultural activities like museum visits and theater performances, and a cultural day trip.
Support
While in London, staff from the UC Education Abroad Program and Accent International provide student support and emergency assistance. One Resident Assistant lives with participants in program housing, organizes group activities, and provides live-in support.
Extracurriculars
Program activities include museum visits, theater performances, and a day trip outside of London to visit Hampton Court Palace during orientation week and various cultural activities led by ACCENT staff throughout the fall semester, such as themed walking tours and musical theater performances.